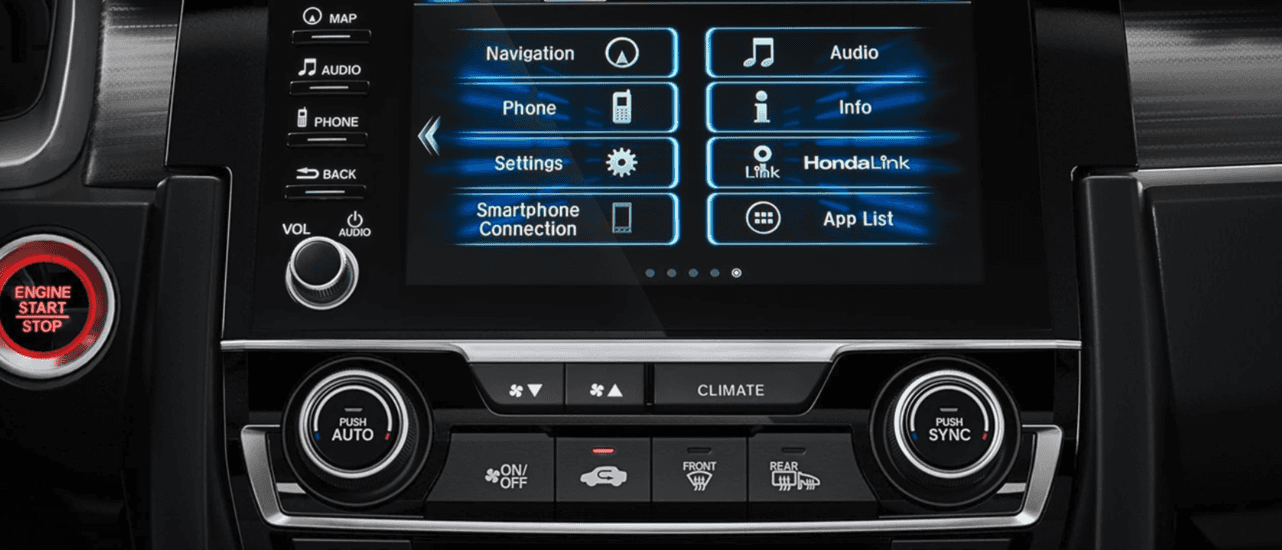 If you're exploring new Honda vehicles, you've probably noticed that most come standard with HondaLink. What is HondaLink, and how can it deliver the connectivity and convenience you're looking for while driving in Dayton? HondaLink technology connects your smartphone to your Honda vehicle's infotainment system for hands-free calling, access to your music and apps, and much more. Read the guide below and contact us at Voss Honda team to find out what else this revolutionary technology can do!
What is HondaLink App Technology?
HondaLink is an app-based suite of connectivity features that allows Troy drivers to access their smartphone apps with voice commands and through the infotainment touchscreen. In addition, HondaLink provides remote access like automatic collision notification, personal data wipe, and roadside assistance services.
HondaLink App Technology Features
HondaLink is available in a range of feature sets, so Sidney drivers can customize with the features they need most. Most new Honda models come standard with HondaLink Basic, which includes essentials like offers recall alerts, service scheduling, parking reminders, roadside assistance, and digital owner's manual access. Choose from Basic, Link, Security, Remote, and Concierge feature sets. What is HondaLink capable of with increased features? Here's some of what you can do with a feature package above Basic:
Remotely access your Honda vehicle
Access enhanced roadside assistance
Receive reminders about regular auto service, security, and speed limits
Perform mileage, fuel range, and oil life checks
Access personal concierge assistance for help with reservations
Send destinations to the navigation system from your Smartphone
Which Vehicles Offer HondaLink?
Most new Honda vehicles come equipped with the HondaLink app, including:
HondaLink Cost and Pricing Options
The pricing for HondaLink varies depending on the chosen package and your vehicle. Check out the HondaLink subscription packages below!
HondaLink Subscription Packages
BASIC PACKAGE – Complimentary
The Basic package offers complimentary services that include receiving recall notifications, service appointment reminders, and access to basic HondaLink features. Additionally, you can utilize roadside assistance through the basic HondaLink service.
LINK PACKAGE – Complimentary
The Link package provides complimentary services that include service reminders and the ability to check vehicle mileage, oil life, and remaining fuel range. If your vehicle is equipped with a navigation system, you can conveniently send a location from the HondaLink mobile app to the navigation system before your departure.
SECURITY PACKAGE – 12 months complimentary, $89/year thereafter
The Security package offers 12 months of complimentary service, followed by an annual fee of $89. It includes the HondaLink Security Plan, which provides valuable features such as automatic collision notification. In the event of a collision, this feature connects a live person to your vehicle to request assistance from emergency responders if needed. The Security package also includes emergency calling, enhanced roadside assistance, and other essential security features.
REMOTE PACKAGE – 3 months complimentary, $110/year thereafter
The Remote package provides 3 months of complimentary service, followed by an annual fee of $110. With the HondaLink Remote Plan, you gain access to features designed to enhance convenience and security. This includes safe teen driver features, such as monitoring vehicle speed and setting geographic boundaries. The package also includes a vehicle locator feature, helpful in case of a lost or stolen vehicle. Additionally, you can remotely start your engine, lock and unlock your vehicle, and enjoy integration with Amazon Alexa. Moreover, Key by Amazon In-Car Delivery is available with this package.
CONCIERGE PACKAGE – 3 months complimentary, $260/year thereafter
The Concierge package offers 3 months of complimentary service, followed by an annual fee of $260. In addition to all the features included in the Remote package, the HondaLink Concierge Plan provides personalized concierge services. You can rely on this plan to make reservations at hotels, airlines, and more. Once reservations are made, you will receive confirmation and navigation details directly on your Honda vehicle. This package truly enhances your convenience and takes care of your travel arrangements.
How to Connect to HondaLink App
What is HondaLink's activation process? Fortunately, connecting HondaLink is as simple and intuitive as the technology itself. Follow these steps, and don't hesitate to contact our service center if you have any questions:
Download and open the HondaLink app on your Apple or Android smartphone.
Input your Vehicle Identification Number. In most vehicles, you can find the VIN number on the driver's side door jamb.
Create a new account or log in with your Honda ID.
Follow the prompts to pair the app with your vehicle.
Now select the HondaLink icon on the home screen of your car's infotainment touchscreen.
HondaLink is now ready to use!
Explore HondaLink Capability with Voss Honda
If there's anything you'd like to learn about other Honda technology and infotainment features like Honda LaneWatch and Lane Departure Warning, reach out to our service team to speak with an expert technician or check out the Honda Tech Tutor. We're happy to help you problem-solve over the phone! If you're ready to move forward with a new or used Honda vehicle, get started today with an online financing application. Learn about more features you can enjoy in your next ride, like the impressive Honda AWD system.
HondaLink FAQs
How can I obtain, verify, or update my PIN for HondaLink?
To verify or reset your PIN for HondaLink, you can contact HondaLink directly at (888)-528-7876.
What should I do if I cannot log into my HondaLink app?
If you cannot log into your HondaLink app, your email or password may be incorrect. To verify your email or reset your password, contact Honda's In-Car Technology Support at (888)-528-7876.
What features are available with HondaLink for my specific Honda vehicle?
HondaLink offers various features for different Honda models. Some basic features include a service and maintenance schedule, fuel and driving range details, and more. For select 2018+ Honda owners, there are upgraded packages available for purchase that offer additional capabilities such as remote engine start, stolen vehicle locator, remote door lock/unlock, and more. The Honda Clarity line-up also includes charging features.
What if I can't view my remote features on the HondaLink app?
If you cannot view your remote features on the HondaLink app, contact Honda's In-Car Technology Support at (888)-528-7876 for further assistance.
Why is the recall notification still showing on my HondaLink app even after the recall has been completed?
It may take up to 30 days after the recall has been completed for the notification to disappear from the HondaLink app. If you have further questions about completing a recall, you can contact Honda's Customer Support & Campaign Center at (888)-234-2138.
Why is the information on my HondaLink dashboard blank or inaccurate?
If the information on your HondaLink dashboard is blank or inaccurate, ensure that your mobile phone and vehicle are paired via Bluetooth® and that the Diagnostic & Location Data setting is enabled in your vehicle. You can refer to your vehicle's Owner's Guide for instructions on enabling this feature. If you still experience issues, you can contact Honda's In-Car Technology Support at (888)-528-7876.
How can I check when my HondaLink subscription expires?
You can directly check the expiration date and status of your HondaLink subscription on the HondaLink app.
Who can assist me with inquiries about my HondaLink subscription, including enrollment, billing, and cancellation?
For assistance with HondaLink enrollment, billing, or cancellation, you can contact Customer Support at (888)-528-7876. Additionally, if your Honda vehicle has a LINK button, you can press it to connect with a HondaLink agent.
How do I update the email associated with my HondaLink account?
To update the email associated with your HondaLink account, you can log into your owner's account at owners.honda.com using your current HondaLink credentials. From there, you can change your email address and manage your account information.
How can I access the navigation app and other HondaLink apps on my vehicle's navigation screen?
For users with specific vehicle trims, you have the convenience of interacting with audio systems and mobile phone-based apps, including the HondaLink app suite, directly on the Display Audio screen. This suite offers various features such as scheduling service appointments at Honda dealerships, searching for locations, checking weather information, receiving service messages from Honda, and more.
To begin, you will need to follow a few simple steps. First, download the HondaLink App Launcher and proceed to register your Honda vehicle. Once the launcher is successfully installed and registration is complete, you can easily access your HondaLink apps through the touchscreen display on the vehicle's navigation system. It's important to note that in order to establish HondaLink connectivity, you will need a cable connector, an Apple Lightning adapter, and a Bluetooth® HandsFreeLink® connection.