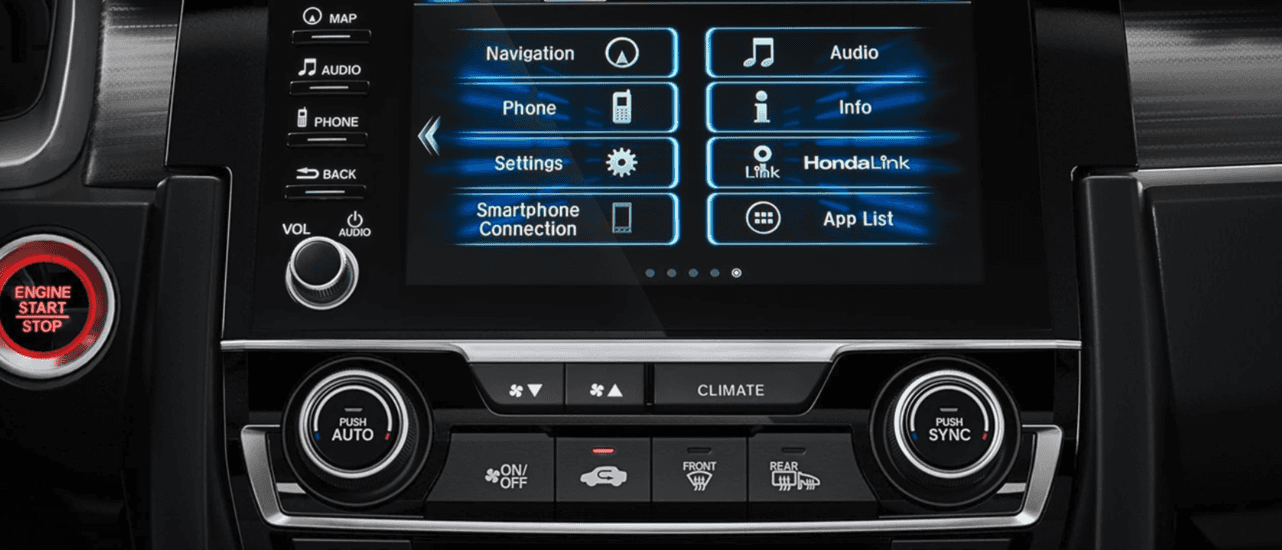 If you're exploring new Honda vehicles, you've probably noticed that most come standard with HondaLink. What is HondaLink, and how can it deliver the connectivity and convenience you're looking for while driving in Dayton? HondaLink technology connects your smartphone to your Honda vehicle's infotainment system for hands-free calling, access to your music and apps, and much more. Read the guide below and contact us at Voss Honda team to find out what else this revolutionary technology can do!
What is HondaLink App Technology?
HondaLink is an app-based suite of connectivity features that allows Troy drivers to access their smartphone apps with voice commands and through the infotainment touchscreen. In addition, HondaLink provides remote access like automatic collision notification, personal data wipe, and roadside assistance services.
HondaLink App Technology Features
HondaLink is available in a range of feature sets, so Sidney drivers can customize with the features they need most. Most new Honda models come standard with HondaLink Basic, which includes essentials like offers recall alerts, service scheduling, parking reminders, and roadside assistance, and digital owner's manual access. Choose from Basic, Link, Security, Remote, and Concierge feature sets. What is HondaLink capable of with increased features? Here's some of what you can do with a feature package above Basic:
Remotely access your Honda vehicle
Access enhanced roadside assistance
Receive reminders about regular auto service, security, and speed limits
Perform mileage, fuel range, and oil life checks
Access personal concierge assistance for help with reservations
Send destinations to the navigation system from your Smartphone
Which Vehicles Offer HondaLink?
Most new Honda vehicles come equipped with the HondaLink app, including:
How to Connect to HondaLink App
What is HondaLink's activation process? Fortunately, connecting HondaLink is as simple and intuitive as the technology itself. Follow these steps, and don't hesitate to contact our service center if you have any questions:
Download and open the HondaLink app on your Apple or Android smartphone.
Input your Vehicle Identification Number. In most vehicles, you can find the VIN number on the driver's side door jam.
Create a new account or login with your Honda ID.
Follow prompts to pair the app with your vehicle.
Now select the HondaLink icon on the home screen of your car's infotainment touchscreen.
HondaLink is now ready to use!
Explore HondaLink Capability with Voss Honda
If there's anything you'd like to learn about other Honda technology and infotainment features like Honda LaneWatch and Lane Departure Warning, reach out to our service team to speak with an expert technician, or check out the Honda Tech Tutor. We're happy to help you problem-solve over the phone! If you're ready to move forward with a new or used Honda vehicle, get started today with an online financing application. Learn about more features you can enjoy in your next ride, like the impressive Honda AWD system.