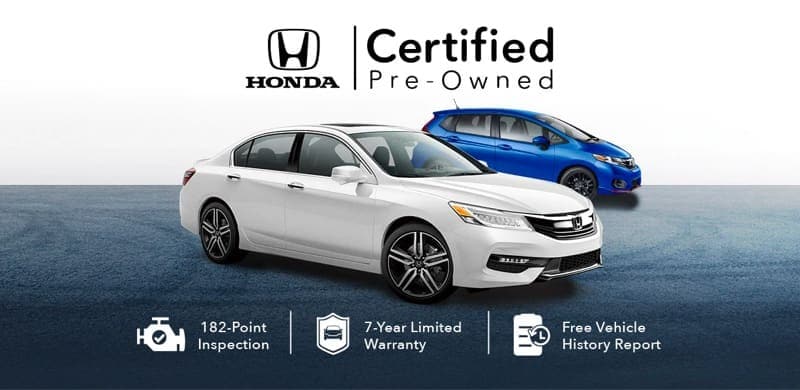 Certified Pre-Owned
Nothing compares to the quality of a Honda. No other program comes close.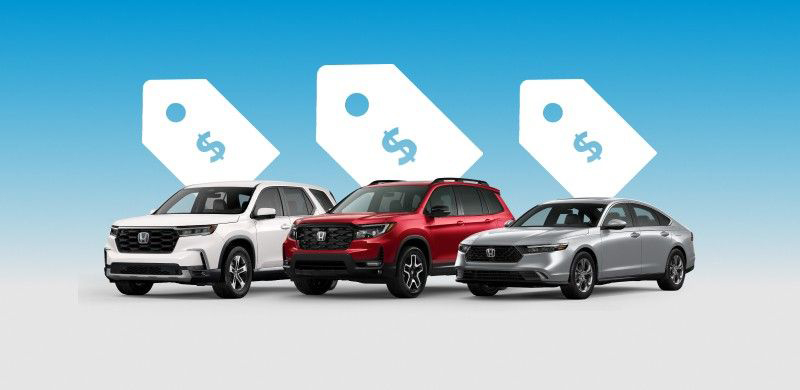 Current Offers
See this month's featured current offers going on now on new Honda vehicles.
Our Reviews
One of the best dealerships I have ever been to. They gave us a good offer with our trade and were OUTSTANDING with the van we purchased. Our salesperson, Brad, was very helpful and laid back. We had our three kids with us, and all the staff were very understanding and accommodating. It was definitely worth the trip to Tipp!
I really enjoyed working with my salesman Chuck. As a female buyer I felt seen and heard! The entire process was seamless and Chuck met our needs and I did not feel pressured at all. I would highly recommend seeing Chuck for a positive buying experience!
We live within an hour drive of 3 Honda Dealerships, so we have a choice on where to purchase and service our cars, we chose Voss Honda in Tipp City. Our son chose to upgrade to a used 2020 Honda Insight Touring Hybrid, and with the knowledge from Derrick Davis, he made the experience so pleasant, that my wife and I returned 5 days later to purchase a new 2021 Honda Accord Touring Hybrid. Once again, we chose to work with Derrick Davis, based on our previous experience. Out of the 3 dealers in our area, Voss Honda had the lowest price, made the best offer on our trade-in, and got us the best interest rate available for financing. The honesty level, was by far shown... Voss Honda gave us a "Honda Loyalty Discount" for having previously owned a Honda. When we questioned the other 2 dealers in our area about this, they stated the discount was included in their "lowest price" that they had offered. Voss Honda came in under $3,000 cheaper for the new 2021 Honda Accord Touring Hybrid, and $2800 cheaper for the used 2020 Honda Insight Touring Hybrid than the other 2 dealers in our area. Congratulations Voss Honda... you have earned my respect and will be back in the future to do business again!
I had my 2020 Honda Civic in for its first routine maintenance. My contact was Randy Bobak. He treated me with respect, the work done on my vehicle was very good, the price couldn't be beat, and I wouldn't hesitate to have him schedule future service needs.
Wally was very helpful. He was low key, and listened to our wishes. We looked at several 2020 Hondas, and some 2021's. We took a road test in the 2021 Accord Sport Sedan and believed it to be the car we were looking for. Good experience!
VOSS HONDA has a great balance of great service and sales; a variety of models, including HONDA and other certified used cars. Expert sales staff and technicians make the process work!
Purchased our 2nd car from Voss in the last 10-years. We've worked with both the Used Car group to get our 2008 Accord back in 2011 and more recently the New Car group to get our 2019 Passport. The experience was better than I could've imagined. Since this is a "no hassle" dealership the price you see online is at least the price you can expect to pay at the dealership. This makes it much easier to figure out what you'll be paying by doing prior comparisons. Mike Gorman helped us thru the process and was probably the best salesman I've ever purchased a vehicle from. He was informative and straight forward with all the details about the purchase we were considering. At no point did my wife or I feel pressured which I appreciated very much. His assistance was equivalent to putting all the cards on the table and then letting us make our own decision about whether we liked the vehicle or not. We'll definitely be back should we need another Honda or find ourselves in the market for a used car in the future.
Drive from Columbus due to a great deal and great sales people that were easy to work with. Would definitely buy from here again.
If you are looking for a great used car salesman see Ted Scisson. Honest dealership great experience! They will go out of their way for you. Love my new van!
Ted Scission is awesome and my experience at Voss Honda was stellar! I had been casually looking for a Honda Accord Sport when I came across a great deal that Voss had over the internet. I placed a call to the Voss dealership and was fortunate to have Ted Scission answer the phone. Ted was very helpful and honest and because of my overall experience with him, I happily booked a one-way ticket to Ohio. When I arrived at Voss, I found the whole team to be pleasant and easy to work with. My trip was well worth it and I have already been telling my fellow Rocket City residents to consider Voss Honda if they are in need of a vehicle. I absolutely am in love with my Honda Accord Sport and would repeat this experience again!
Had a good time with salesman Chuck. We knew what we were looking for and the price was inline with what I wanted to pay. I already had my financing together which made the process quick.
Ted Scisson was professional and knowledgeable! He replied to my email within 24 hours. I inquired about several cars. Ted told me which ones were available. We scheduled a visit and three cars I wanted to test drive were in the front of the building, ready to be driven. Ted was knowledgeable about differences in models and makes. After working with 3 other dealers, Voss was wonderful! Looking forward to working with Ted on our next car purchase. It WAS worth the drive!
I worked online with Keith Bricker who offered me a fantastic deal on a new 2018 Honda Accord 2.0T. He was extremely professional and easy to work with. I would highly recommend him to anyone looking to buy a car. He won't give you any hassle, a real straight shooter. You can trust his price will be VERY low. Thanks Keith!
I live in Indianapolis, so its would be impossible for me to look at the jeep. Just with a text they put it on a rack and sent me 10 pics of the underside without any commitment of buying the Jeep.
This was the first purchase we made at this location. Started out shopping on line, made an inquiry on a specific vehicle. Ted Scisson responded right away to my inquiry. Send me a video, gave me all the info. we could ever need on the vehicle we were interested in. He kept us informed throughout the whole process. I would highly recommend Ted if you are in the market for a vehicle.
We had bought our Honda from Jay Plake and it was such a great experience that when our son decided to purchase his first car we brought him to Jay. We were not disappointed. He had researched what cars he was interested in and Jay showed him several models available without pressure. He then helped him through the maze of first time car ownership. We cannot thank Jay enough for all the time he invested to make this a great first time experience,
Found a good deal on a used crossover at Voss. The sales staff was easy to work with and one of the best in the area after shopping around. They didn't hesitate to let us borrow the car for a day to have it checked out by our mechanic 30 miles away. Their "no bargaining" aspect is a little abnormal, but the deal was good comparing their price to cargurus and truecar. They could have prepared/cleaned/touched up the car a little more, but otherwise everything was straightforward and appeared honest.
I was actively looking to trade my 2011 1500 ram in due to have an extremely high payment, I had previously been looking at castrucci, wetzel, and performance honda. All dealerships except voss were not interested in meeting me halfway with the negative equity carryover. Then I got in contact with keith smallenbarger. Excellent salesman! Within 24 hours we were able to make a deal that saved me over $150/month savings, at a promo apr! My only complaint is the tent ziebart applied is already peeling. I'm having difficulty fixing the issue but that is more A time constraint, since I have to drive 45 minutes from home. Need to fix this issue but overall an excellent experience with keith and sales manager chad minker!
We drove over an hour and will definitely do it again. Great new car service, Wally did a great job. We purchased 2015 Pilot Touring and love it. We arrived there was no pressure or surprises. Thanks for an easy transaction!
We have two Hondas, both purchased at Voss. They know us when we come in - they offer discounts without the coupons - they are honest and have taken care of "little things" with no charge! This is a car dealership that has gone the distance. We lost that "oh oh....." feeling when we've needed something repaired. Some dealers see $$$$ when a customer walks through the door - not Voss - and that goes double for their service department. There is a negative comment here in the reviews that I don't understand at all.
Bought a new 2013 Cr-V in Nov 2012. First I contacted him via e-mail. His response was very quick. This salesman will work with you. Unlike other dealership, they will sell only stuffs that you actually want. What I mean is that they will not stack up whole lot of extra stuffs that you'll never use. The dealershop is full of friendly people and I never felt uncomfortable there. I live in Dayton and could have gone to other dealers that were closer to me, but one of my buddy recommended me to this one so I gave it a shot and I was very satisfied. Now I can recommend someone to go to this dealer because I am confident that they are knowledgable and friendly at the same time. by the way... at the accountant office.. that was some cool tech you had. The name of it was Docu Pad? I think..
What can I say? Good Customer Service including the whole package is very difficult to find anywhere these days, but Voss Honda in Tipp City excells. You get the feeling of teamwork and everybody's on the same page with positive kind, helpful, and honest attitude. They've never deceived me or tried to sell me something I don't need. The service I get from them is genuine and professional, and they even wash your car for free afterwards!. We travel 20+ miles to the dealership from Beavercreek. OH because of a bad experience at a local Honda dealership. Another fact worth noting....Voss doesn't take advantage of women with limited mechanical knowledge either. HIGHLY RECOMMENDED !!! FIVE STARS.

Welcome to Voss Honda
Voss Honda is located in Tipp City, OH. We offer the latest selection of new Hondas, including the Honda Accord, Honda Civic, Honda Clarity, Honda HR-V, Honda CR-V, Honda Fit, Honda Passport, Honda Odyssey, Honda Pilot, and Honda Ridgeline. We're glad you chose our Tipp City, OH car dealership for all of your car shopping, service, parts, and finance needs. Our neighbors in Troy, Tipp City, and Dayton will love our enormous selection of new and used Hondas for sale and our sprawling inventory of other pre-owned makes and models. Our Honda dealers in Dayton, Ohio also serve our neighbors in Springfield, Beavercreek, and Fairborn.
Shop Exclusive Offers on a New and Used Honda in Springfield, Ohio
Whether you're looking for a new Honda hybrid vehicle, a stylish and fuel-efficient sedan like the Honda Civic, or a spacious SUV like the Honda Pilot and Honda CR-V, Voss Honda in Tipp City, OH carries a variety of body styles and high-tech, driver-focused models for you to choose from. Feel free to browse our Honda Springfield, Ohio dealership's online new car inventory at your convenience. Let us know if you see something you like and we can schedule a private test drive whenever it works best with your schedule!
See Why We're Among the Top Honda Dealers in Ohio
Some drivers opt for a used vehicle because it's more affordable than a new car. Aside from the used Honda inventory at our Honda dealership in Dayton, Ohio, we have a host of used cars for sale from all different types of automakers, including pre-owned sedans, trucks, and SUVs. Please let us know if for whatever reason you don't see the used car you're looking for, and one of our sales associates will track it down for you. As one of the top used Honda dealers in Ohio, if we can't find a vehicle, our sales associates will do their best to locate an equivalent make and model. If you're curious and want to know more, we'll help you get behind the wheel for a private test drive so you can determine if it's a good fit for you.
Auto Financing, Car Loans & Honda Lease Deals Near Dayton, OH
The last step of the car buying process can be daunting. That's why our finance specialists at our Honda dealership in Dayton, Ohio will be patient and help you understand how the auto loan and Honda lease process works. We have flexible lease and finance solutions, and we also work with a variety of lenders, so we can help you save as much money as possible. As one of the top Honda dealers in Ohio, our top priority is to help you get monthly payments you feel comfortable with.
Find Honda Service and OEM Honda Parts in Tipp City
After you purchase your next vehicle from Voss Honda in Tipp City, OH, we invite you to come back and see us anytime, even if it's just to service your vehicle. Our knowledgeable technicians work with certified Honda parts to help keep your new (or used) Honda running like new for miles to come. Plus we have plenty of Honda service coupons to choose from, and if you prefer to do the job yourself, you can also order OEM parts from our parts department. Just fill out our request form with your information, details about your vehicle, and a description of the part you need.
A Honda Dealership Dayton, Ohio Drivers Can Count On
When it comes to finding the right Honda dealership, Dayton, Ohio drivers can always turn to Voss Honda in Tipp City, OH. As one of the top Honda dealers in Ohio, we also are proud to serve drivers in Tipp City, Fairborn, Beavercreek, and Dayton, Ohio. If you don't see a particular vehicle, click on CarFinder and complete the form. We will gladly inform you when a matching car arrives. If you'd like a see a vehicle in person, click on Dealership: Directions for step-by-step driving instructions to our site, or give us a call. We look forward to serving you! www.facebook.com/vosshonda
Get Directions To Voss Honda